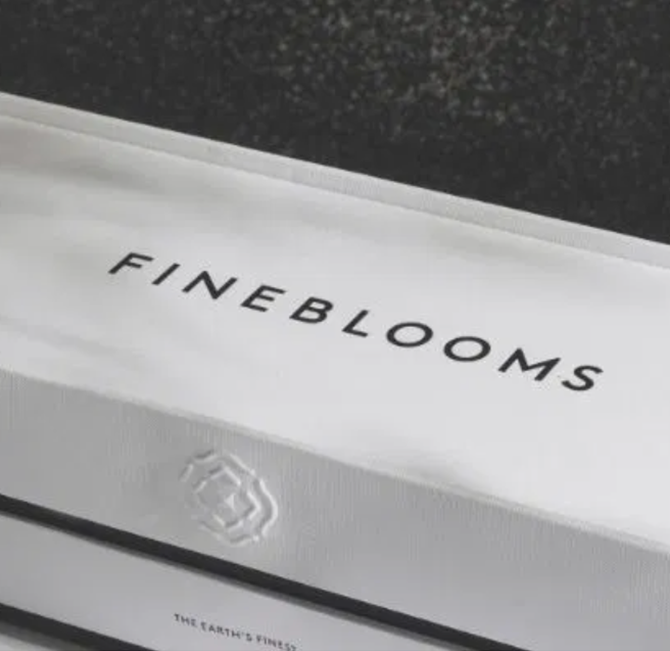 Creative Director of Fine Blooms on creating a fine finish
Chloe Szukilojc's approaches creating fine floral arrangement with a daring eye for the unusual.
What do your first 30 minutes of the day look like?
When I am up, I like to head to the gym or clean my house while listening to a podcast. I find this so therapeutic. I love coming home to a fresh, clean house because my days can be so busy that I need to be in a clear space when I return home. I try to take some time for myself in the morning because this is the only time in my day where I able to do so. I have become addicted to podcasts and it allows me the space to not focus on everything else, even for a short time.
Tell us about your role as Creative Director of Fine Blooms.
I love my job so much. There are so many different aspects of my role and every day is different from the next. I spend a lot of time sourcing and ordering flowers as most of our products come from our suppliers in Holland. Making sure the flowers are here on time for events and orders is essential. The role is ever-changing, we all help out and work together as a team and this is key for the success of any business.
How did you know you wanted to be a florist?
I have always wanted to do something creative. I always excelled in textiles, design and art at school. My passion for flowers came from a young age, and as I grew older, I become more confident in pursuing my dream. Being a florist then, isn't the same as it is now, back then it would have been very uncommon to leave school and do what I do. Now I think floristry is more exclusive, it's like an art practice.
What has been the biggest challenge since launching and how did you overcome this?
I relocated to Dubai at the end of February of this year and three weeks later, we went into lockdown. Not only was I in a completely new country and in a new role, but also in the middle of a global pandemic. There have been some tough times, but honestly, the good far outweighs the bad. I feel very proud of how Fine Blooms has excelled this year.
Which flower is your favourite, and why?
This is honestly the most challenging question, and it changes every season. By the end of the peony season, I'm ready to see something new but when they come back, I'm in love again. That's what's so great about my job; things are always changing all the time. Currently, I cannot live without chocolate cosmos. They look like chocolate and smell exactly like chocolate.
Which floral trends are the most popular in the region?
Floristry is like fashion, and any other face paced moving industry. Trends are continually changing and evolving. I think people in the region are now looking for something different, usual and unique. When we create our wildest designs, that's usually what gets the most attention.
How should you look after your floral arrangements?
Lots of water! Fill your vase right to the top as flowers drink super quickly, especially when it's hot, and if you receive a bouquet the stems can be different lengths. So, to avoid any dying off quicker than the others, make sure to fill right to the top of the vase and change the water every two days.
What's inspires when creating floral designs?
I take a lot of inspiration from my surroundings. The environment, natural products and landscapes inspire me. I love using the unusual. Over the past year, we've used sand, fruit and even salt rocks in our designs. I want to do things differently and show people how to incorporate what you have in your fruit bowl into your dinner party table arrangement set up.
What key elements should be present in flower arrangements for the festive season, and will you be creating festive wreaths?
Everyone celebrates the festive season differently, so I think it's important not to box yourself into the stereotypical designs or colour schemes. We will be focusing heavily on dried flowers this festive season so our customers can keep arrangements in their homes for longer, even through into the New Year.
Which Instagram accounts do you follow for inspiration?
@rubymarylennox is a magician. An Australian florist now living in Berlin and taking the floristry world by storm. I gasp every time I see a new post.
Also, my sister @isabellaszukilojc she is fabulous. She is the Dark Lab's Marking Director, which holds the most captivating, eye-opening festival every year, Dark Mofo in Hobart, Tasmania. It honestly blows my mind what they do there.
What advice would you give to your younger self starting?
Trust your instinct. I spent a few years working in the fashion industry because I thought it was the closest thing I could do the floristry. Obviously, in the end, I wasn't happy, as it wasn't where my passion lay. Also, always go for what you want and don't get too caught up in what's the traditional route of a career. You can make anything happen if you work hard and believe in yourself. Don't seek approval from others; it will always hold you back.
This is 'The Party Issue' – how will you be celebrating this year?
Like many others this year, I won't be able to make it home to my family and friends back in Australia, which is heartbreaking. Still, I'm trying to make the best out of this situation and take some time off and explore the UAE and spend my first holiday season in my new home with my partner and friends. I'm so looking forward to it. I think the whole world deserves a good break!