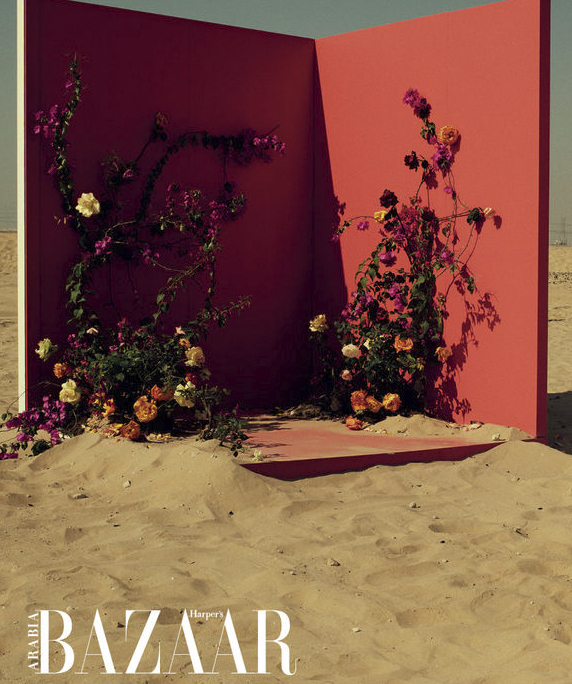 Simone Rocha on Inclusivity, Sustainability and Her New Collection with H&M
As she celebrates ten years in the business, the Irish designer teams up with the retailer to introduce her whimsical, hyper-feminine visions to the high street…
Over the years, H&M's designer collaborations have developed a cult following, making some of the most legendary names within the industry accessible to the masses. Starting back in 2004 with Karl Lagerfeld, then adding brands including Versace, Balmain, Lanvin and Comme des Garçons, the Swedish behemoth now welcomes Irish designer Simone Rocha as its newest collaborator.
Simone, crowned Young Designer of the Year in 2014 by Harper's Bazaar UK, before being named Womenswear Designer of the Year in 2016 at the British Fashion Awards, is best loved for her ultra-feminine creations, however this line will also see her first venture into menswear, children's fashion and a touch of beauty – all inspired by the archives of her eponymous label.
Ahead of the collection becoming available online and in-app to UAE and Saudi shoppers come March 11, Bazaar caught up with Simone to talk inclusivity, sustainability and re-imagining her library of pieces for a whole new audience…
How did you decide which elements of Simone Rocha to include for H&M?
The ideas actually developed very naturally by spending time in the archive, revisiting past collections and thinking about what our key signatures are as a brand. Overall, the collection brings together themes and narratives that are always present in my work: art history, craft, strong femininity, and, of course, elements of my own identity from my Irish and Hong Kong heritage. We tried to make it very recognisably Simone Rocha – from the cream, pink and red palette we adore, to the bespoke fabrications – which we put so much energy into, right down to the accessories and embellishments. It was a really pleasurable experience to look back at the archive, reflect on how the brand has grown and how certain classics have developed.
Are there particular collections from Simone Rocha that are evident in the different pieces?
I spent a lot of time looking back at the first neoprene pearly collection from S/S14. It really felt like a moment in establishing my identity and it was when I first introduced the pearl, which is now so signature. I also looked at S/S16, which was partly inspired by the Japanese photographer Nobuyoshi Araki, and was my first fashion week show in Lancaster House; along with the Anne Boleyn collection, which was A/ W14, and mixing elements from that, such as the seersucker tartan checked dress with more recent elements, like the pleated tulles from the Red Dolls collection from S/S18. I really wanted to take archive details and reimagine them, so it's not mere re-editions, it's taking things and reinterpreting them for today and now.
Why was now the right time to venture into fashion for men and children for the first time?
This has been one of the real thrills about working with H&M; the chance to expand into new areas. Childrenswear is something I get asked about all the time. Of course, I make pieces for my own daughter, and for friends and family, but here it's finally happened and I have the chance to do it properly. There are lots of mini versions and scaled-down Simone Rocha classics, like tiny little dresses and knits. And my male friends have been asking me to make menswear for the last 10 years, so now they won't feel left out! When working on this collection I thought of it as one family, one unit, one identity.
How are you working to ensure the collection with H&M is sustainable?
I'm really impressed with all the work H&M does on sustainability, particularly in terms of committing to fabrics that are organic, recycled or sustainably sourced. Within this collection, they were open to having me develop bespoke fabrics, which is something that we always do with our own collections to ensure quality and longevity – that was really special, as it assured me that these pieces really will be built to last. It's about timeless pieces that can be worn year after year. To me, that's really what sustainability is about, clothing that will be enjoyed for decades.
Why do you think collaboration collections by H&M have become such a cultural touchpoint?
As a consumer, it's something I genuinely believe in; I still have socks from the Marni x H&M collection, along with a Comme des Garçons x H&M spotty knit! I remember the elation of being able to have those pieces – a piece of fashion history. I think that's why the collaborations are so popular; it feels like such a unique chance to own something really special, to be able to offer that for a generation that might not always have the opportunity to buy my pieces is thrilling – I am very humbled.
For those experiencing Simone Rocha for the first time, what do you want them to take away from the collection?
I definitely want this collection to bring joy and a certain sense of escapism; a real sense of enjoyment in fashion and in the process of getting dressed. I hope that people feel excited by the invitation into my world.
For some people who buy my work regularly, this will be a chance to add to their collection or to recall archive moments that they loved from a specific show, to be able to get a new twist on a past piece that they really wanted but didn't get. I just can't wait to see how these new customers wear the collection and what pieces resonate with them.
Photography: Paul Morel. Styling: Anna Castan. Author: Laura Kell. Model: Darina Petrova at Signature Element. Hair: Jordan Robertson. Make-Up: Manuel Losada. Photography Assistant: Mohamed Bendaoud. Creative Director: Dane Stojanovic. Fashion Assistant: Noor Naimi. Floral Artist: Chloe Szukilojic at Fine Blooms. Post Production: Elisa Ritter. Producer: Aamar Shawa. With special thanks to Fine Blooms.