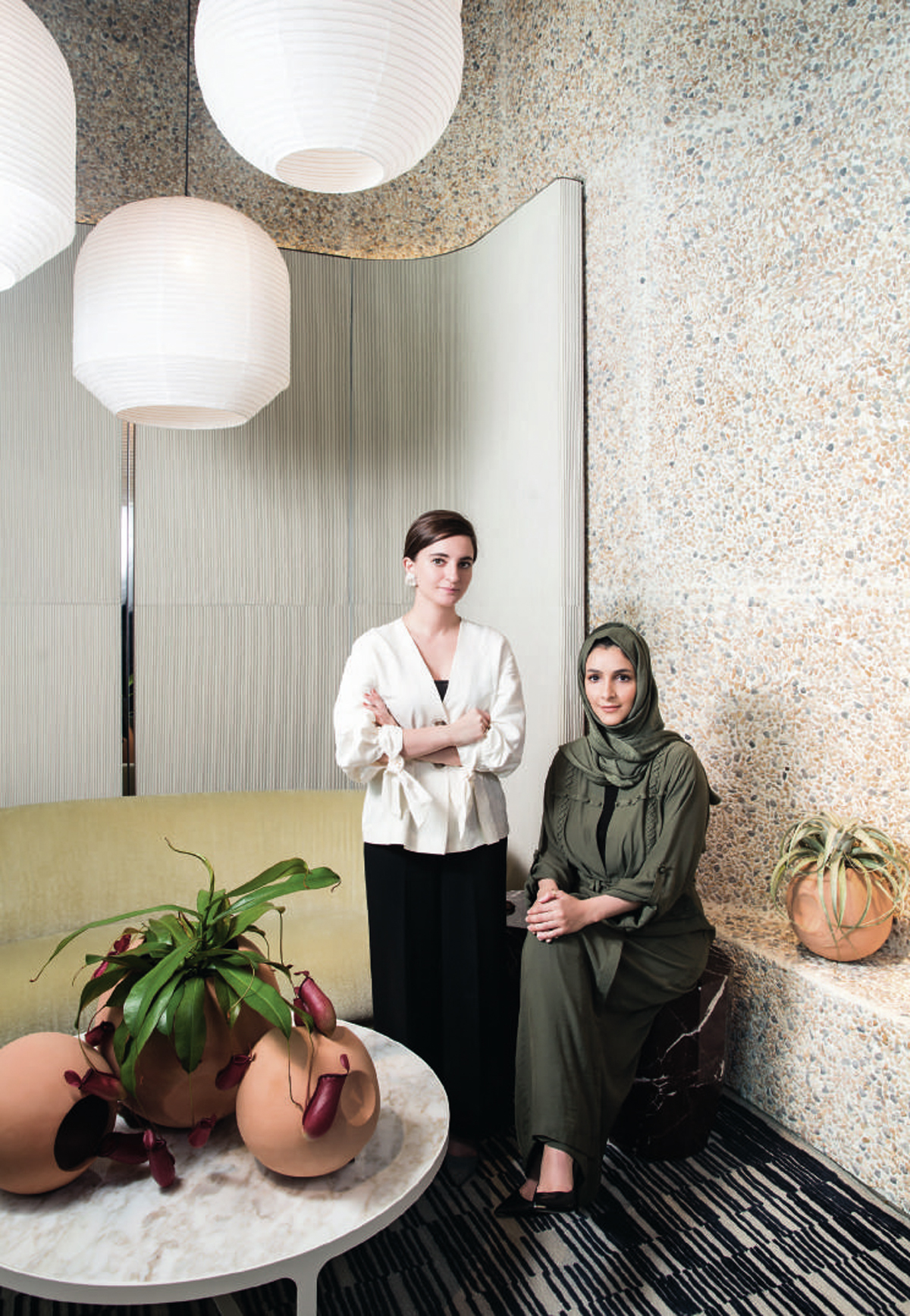 Regulars to Dubai Design Week will recognise the names Talin Hazbar and Latifa Saeed. The pair have created striking installations for the festival using terracotta for the last three editions, and they've also previously collaborated with Fine Blooms on a site-specific creation for the front of the store.
Saeed, an Emirati multidisciplinary conceptual artist, and Hazbar, who experiments with materials and design within natural systems, have been working together as a pair since 2015, when they collaborated on a project using wheel-thrown terracotta sculptures hand-made in the UAE. This first piece, entitled Earth Hives, was made as a public piece for Dubai Design Week featuring hand-made terracotta hemispheres each containing lights. Since then they've continued to evolve their use of the medium, exploring its materiality, structures, and the process by which terracotta is made.
Their previous work for Fine Blooms was designed to be versatile, say the artists. "We created plant vases suspended from metal rods, which can be moved to allow the florist the option to create different compositions to express seasonality through a band of lush plants, foliage and flowers along the shopfront." More custom-made ceramics by the pair can be found inside the store, alongside glassware made from Dubai sand by Turkish designer Rezzan Hasoglu.
The terracotta pot is possibly one of the UAE's first commodities, and the craft of pottery and its making process on the throwing wheel is a central idea in the pair's work. They see their collaboration with Fine Blooms as building on and a continuation of their previous collaborations.
"Where it all began was as an exhibited outdoor design installation, where we were exploring the transition between scale and the interaction between the viewer and the terracotta units," Hazbar explains. This led to the following year's piece, Left Impression, where, working together with a 40-year-old terracotta factory in the Northern Emirates, the duo made individual stools with indentations which invited visitors to sit in them. The idea referenced the Emirati majils, where family, neighbours and wider community can gather.
"Design and art installations like these play an important role in our environment," she says. "They can enhance our appreciation of local craft and natural materials. And they all help to connect communities, to offer social interaction and to promote local values."
Events like Dubai Design Week contribute to the growing presence of a creative and a design scene in the region, which the pair see as having multiple benefits. "The scene is evolving in a way that's creating new platforms and new opportunities," says Hazbar. "We aim to carry forward a story by re-exploring Emirati hand-made terracotta in diverse contexts. Our part in the creative scene here is to attempt to express a narrative through our collaborations."