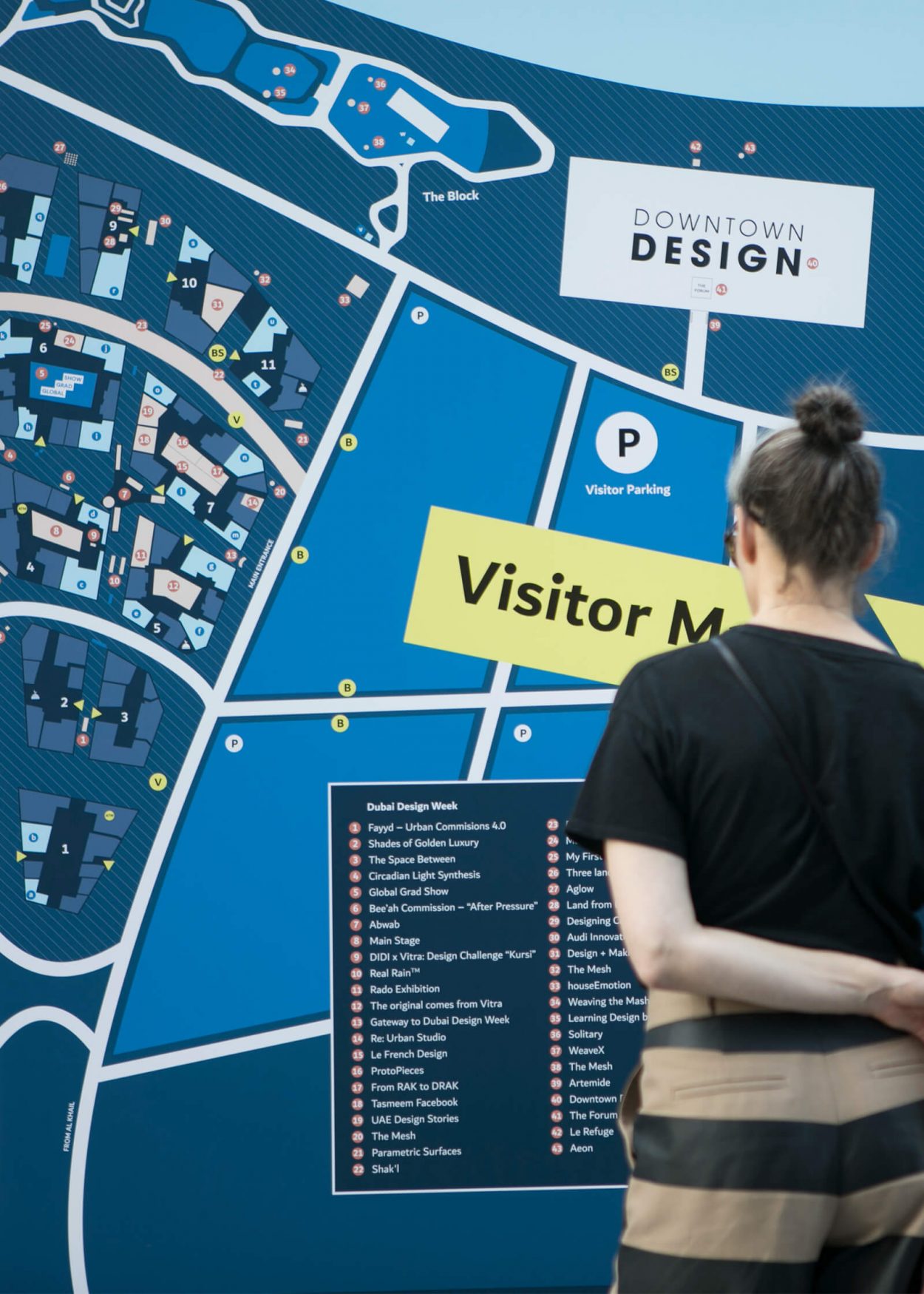 Creative workshops, an innovation hub, a sculptural light and sound installation artwork and a showcase of the world's best young design talent. See our pick of the best exhibits and workshops at this year's Dubai Design Week.
Audi Innovation Hub
It started with a sweeping white line connecting two bodies – Audi's Innovation Hub, designed by Dubai-based architecture practice MEAN*, celebrated connectivity. Hosting talks exploring the way design and technology can change the world, the structure itself told a story which was worth seeing and exploring in its own right.
Tasmeem Facebook Workshops
Social media giant Facebook, partnering with Dubai Design Week for the first time, showcased Arab creativity and community. Every day, there were community expression workshops hosted by Blank Canvas Community,'Tratreez' workshops demonstrating traditional cross-stitching with social enterprise 81 Designs, and Mind 'fitness' techniques on creative thinking hosted by MNDBAR.
Making Space
Pop-up studio Making Space ran workshops where people of all ages, especially including children, could have get hands-on experience of the design process. Using modelling, sculpting and 3D printing, as well as weaving and sketching, it was a comprehensive and fun way to explore the creativity behind design.
Abwab: Kuwait City
The Kuwait Pavilion presented Desert Cast, an exploration of local materials and fabrication methods. Techniques like gypsum-moulding and sand-casting, often used to create elaborate Greco-Roman architectural motifs, were reinvented to explore how they can be used to express local Kuwaiti identity.
Discover the new O Chair
Simple yet striking, the O Chair, by Marcel Wanders, famous for his Knotted Chair for Droog Design, is set to be another iconic piece of furniture design. As tall and wide as a person, cushioned all the way round, it's not really a rocking chair, yet it has movement that sets the mind daydreaming.
Global Grad Show
Showcasing 150 design projects from all over the world, Brendan McGetrick curated an exhibition that was a celebration both of the individuals who were lucky enough to get their entry selected, and the wider culture of innovation and creativity coming into design from all over the world.
Parametric Surfaces
What role does design play in the future, where augmented reality will form a greater part of the landscape? This is what SUPERFUTUREDESIGN* in partnership with Wood-Skin® and Alkanoids explored with a sculpture of physical and digital lines with origami-like characteristics that changed and enhanced the sculpture's shape, function and identity.