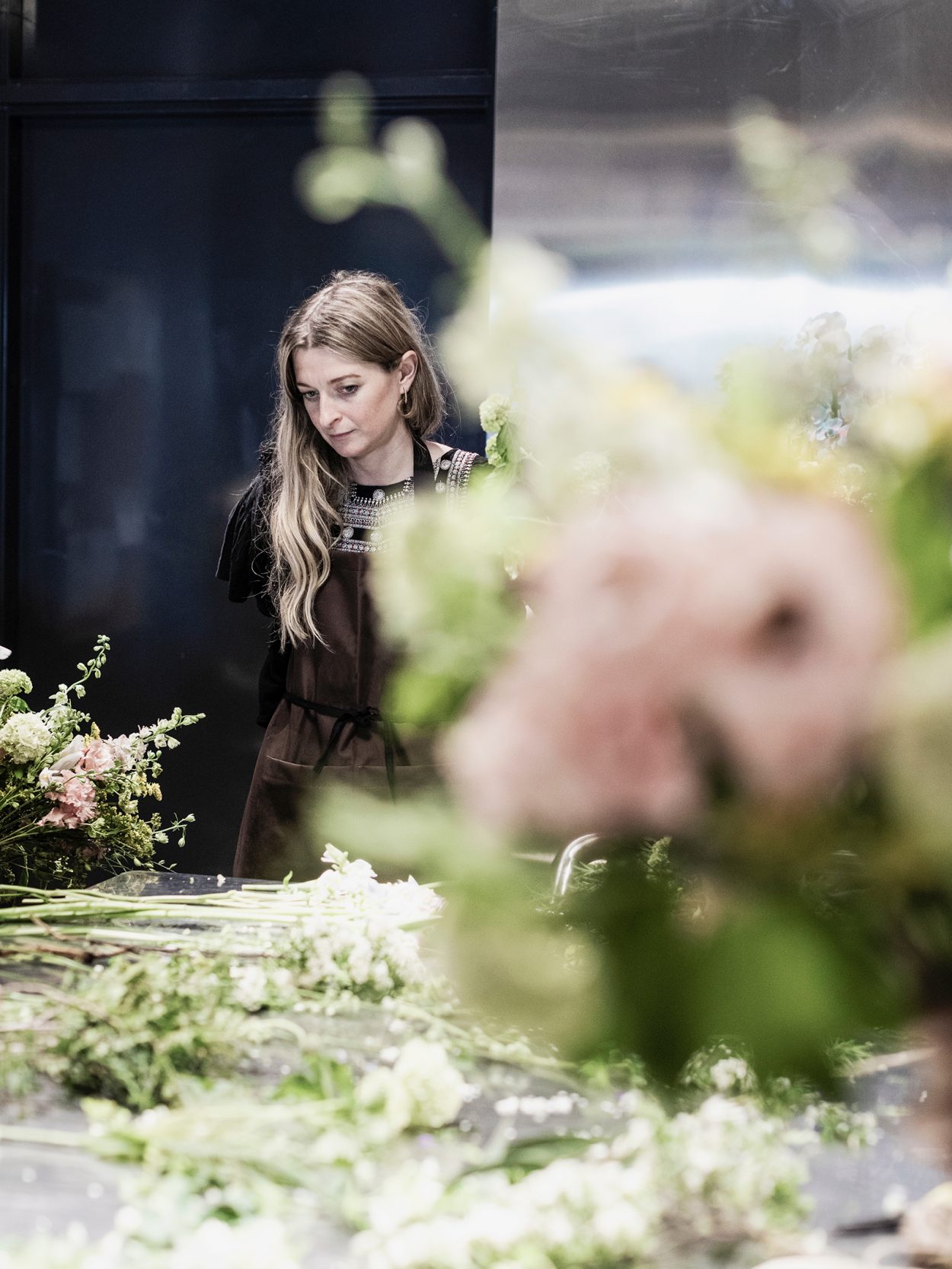 Florists, like ballerinas, are often perceived as having a delicate existence, their day to day lives as light, floaty and poetic as a bouquet or an arabesque. It is of course, just the opposite. A case of hard graft and often gruelling hours, it is something you can only really understand by witnessing it first hand, and in the case of floristry, really getting your hands dirty. That's just one of the reasons why Hattie Fox, Fine Blooms creative director, designs and teaches interactive bouquet-making workshops.
"Having a clearer understanding of floral design can give people a whole fresh perspective on the flowers they bring into their spaces," says Hattie. "People think that it's just taking some flowers and wrapping them in paper, but it's much more difficult than that. You need to think about texture, colour and shape, longevity – and of course beauty."
Hattie began her own education in plants and flowers by simply being surrounded by nature. Leaving home when she was just 16, she moved to London to become an artist, putting herself through art school by sweeping floors at her local florist. Graduating with a degree in painting and a master's in sculpture, she was met with the 2008 recession, and fine art jobs quickly became few and far between. Yet, combined with her experience in flowers she soon realised she had a particular creative niche.
Hattie founded her own floristry business, That Flower Shop, in 2009. Nearly a decade on, she has a studio in Hoxton and a prominent boutique at the fashionable ACE Hotel in Shoreditch. Dubbed London's hippest florist in 2015 by the Evening Standard, Hattie is used to the fast-paced nature of the city's floral fashion trends.
Working in Dubai allows Hattie to escape the pressure of the UK and create something new in a new city. She is unreservedly enthusiastic about Fine Bloom's mission to do something fresh for floristry in the Gulf, and she is ready for the challenge. "We're going to try and redefine the entire industry within Dubai," she says. "This is about viewing flowers in a different way, understanding shapes and how they work within different spaces and architecture. It's taking a whole different idea of floristry and putting it in a location where we don't even really know if people are going to like it. You have to be very brave. But there would be no point in just opening a flower shop in Dubai, selling exactly what all the other flower shops sell."
Having had the importance of creative difference instilled in her at art school, it's not surprising that Hattie has developed her own very distinct aesthetic in floristry. She only truly understood how inimitable her own creative approach was when she started teaching other people.
One of the first things Hattie tackles in her workshops is the 'tug of war' of floristry: the fight between what is beautiful and what is practical. Between what looks lovely and what will have longevity. "Sometimes, you want to choose things that are going to last a long time, and sometimes you just want to choose the most beautiful flower available but it's going to last half a day. You're in all sorts of conundrums constantly."
In Dubai floristry is viewed as an artform that is kept very separate from the customer, so Hattie's approach is a very new one for the area. "It's about igniting a further interest than buying off the shelf. It's inviting your customer to understand a little bit more about your process. That's why our bouquets are different. That's why people have to wait a bit longer. This is not an off-the-shelf operation. This is a very boutique experience."
The workshops always begin with bouquets made in advance, so students can see the end goal, then they are dismantled bit by bit, showing the process but in reverse."We split everything into their specific species group so that every person lines everything up in front of them, like making a cake," explains Hattie. "Then, we talk them through which elements to use first and why certain elements will have an effect on the shape of the bouquet. What's good to add in the beginning, what to add at the end. How to do a spiralling technique, and build a bouquet without it falling apart." The workshops last a couple of hours, and by the end it's clear that some people have discovered a new calling…
Hattie has found that learning by getting hands-on brings a joy that comes with creating something as unique as a bouquet of flowers. "There's a satisfaction because, you always know at the end of the day if somebody tried to replicate it, they just couldn't do it."
Hattie Fox will be leading workshops at Fine Blooms boutique in Dubai's Boxpark during Dubai Design Week, 12-17 November.