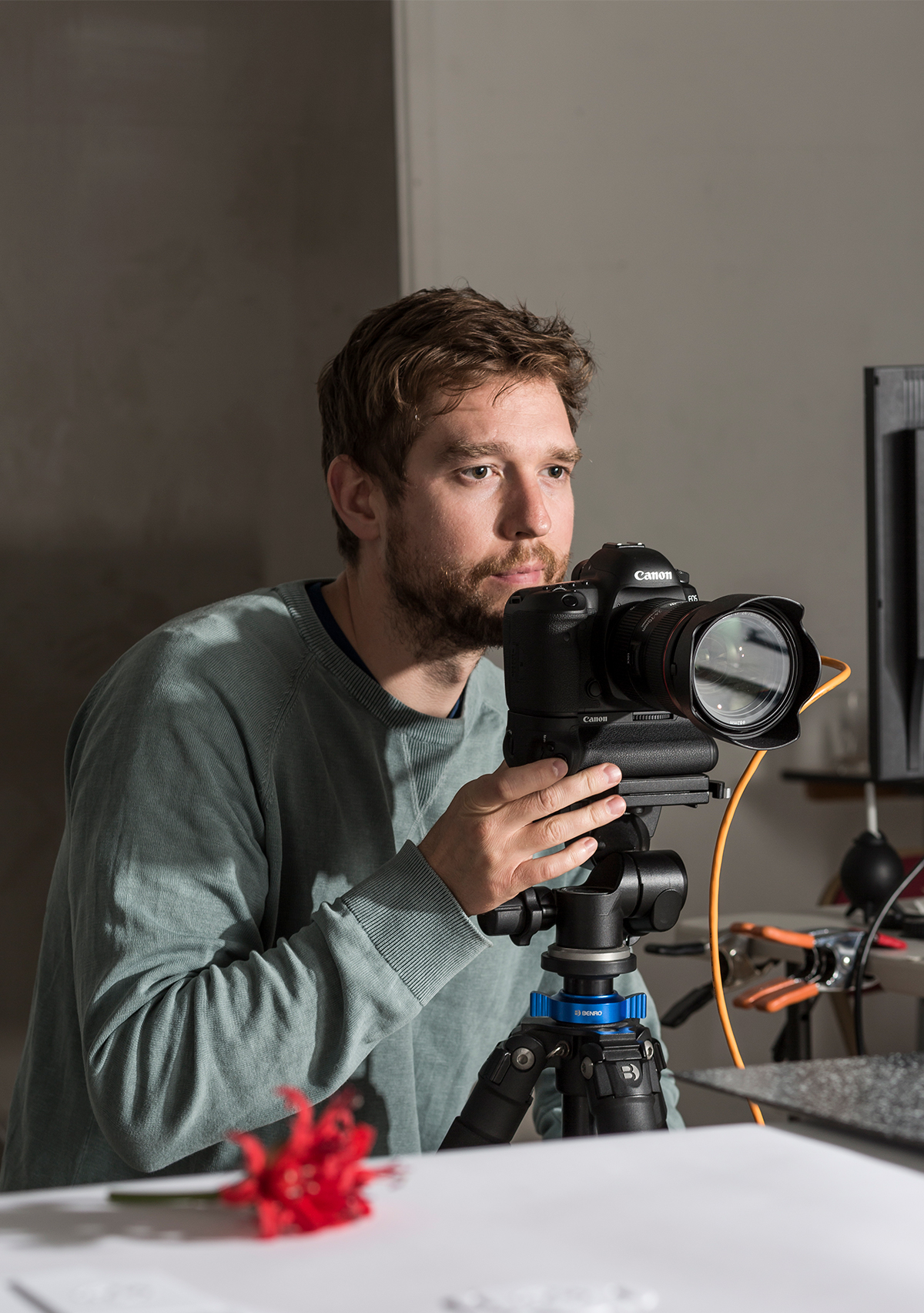 London-based photographer Oli Douglas is the eye behind Fine Blooms' beautiful imagery. For Dubai Design Week, he's taken on a new challenge, collaborating with florist Hattie Fox to create a short film to be screened at Fine Blooms' Boxpark boutique.
"The idea behind the film is land reclaimed," Douglas explains. "Hattie created three beautiful pieces — I'd hesitate to call them arrangements, because they're more like living sculptures — one representing land claimed from the sea, one showing reclaimed land from the desert, and the third focusing on the city. Tonally, thematically, and through different textures, we're trying to evoke through the pieces and the films, a subtle sense of the inspiration theme."
The challenge was to capture the complexity and beauty of the still three-dimensional floral pieces Fox creates in a two-dimensional moving format. For most of the frames of the film the camera is locked, and it's the light or the subject that moves. It's a process Douglas found immensely satisfying.
"Flowers are beautiful things," he says. "You have to explore them a little more to find the optimal angle, but they offer quite a lot more back because of how intricate they are. In the film, there's a shot with very delicate grasses blowing gently in the wind. They're so beautiful and because they're naturally occurring they offer so much more than we could design, and much more detail. The way they pick up the light… you could never artificially create something as delicate as that. I can control the environment and the framing, but what the flowers give back is what's most special."
Although moving imagery isn't Douglas's usual practice, he found he was able to bring the sense of tranquility inherent in still life into the film. "I approached these films like a stills shoot, and then added the extra elements of movement and time," he says. "They're quite subtle to keep the images simple. We wanted it to be very calm, still and considered. This the opposite of the kinds of images you find on social media which can be more throwaway. We took our time."
Douglas and Fox discovered they shared a Fine Art background while on the shoot. "For me it's the ideal creative environment when you collaborate with people from different disciplines, with different perspectives and agendas," he says. "To do your own practice and talk to others about what they do, as well as see them making things in front of you, helps you push yourself."
Working with other creative people is one of the biggest joys that his work as a photographer brings, he explains. "Hattie is super-talented and it's a privilege for me to work with a florist of that standard. She brought a different creative perspective to how I was representing her work and passion in the film. The creations she makes are really special and I'm over the moon at how they look on screen."